ENG101 Handouts, Assignments, Mid & Final Term Past Papers are discussed below. The course is organized into six modules with a total of 45 lectures, each lasting 50 minutes. The course combines instruction in reading, writing, vocabulary development, and grammar usage with separate sessions on each of these subjects. The vocabulary-building exercises in the reading and writing sessions are combined with exposition, argument, narration, and description.
Each session includes reading passages that are followed by a number of tasks to help students understand the text while applying the aforementioned strategies. The first few chapters are factual writings that describe computers and their features, with an emphasis on information arrangement and description. The inventive texts demonstrate how authors use a variety of descriptions to communicate a variety of meanings. Consequently, the course's goal is to help students develop the abilities necessary for studying English as a second language.
A dictionary is a book that not only lists and records words in a language, but also explains how those words are spelled, said, defined, and used by native speakers of that language. Reference guide: contains helpful information. You can only benefit from it if you know how to use it accurately and successfully. English spelling is incredibly challenging for many students. What do you then? Refer to your dictionary. By displaying the several ways to spell the same word, it will help you to understand what is confusing you.
Take a look at the words theater and catalog.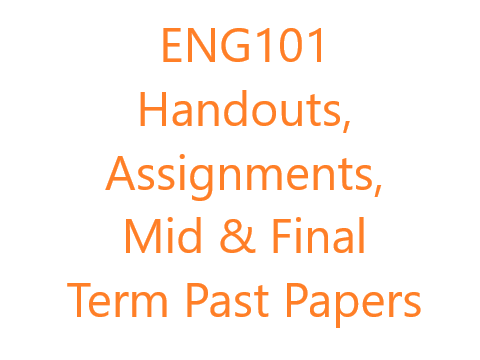 ENG101 Handouts, Assignments, Mid & Final Term Past Papers
You must have observed that the BRE and AE/US spellings of the nouns are both listed in the dictionary. They are both right. Students have difficulty pronouncing words in English. Any word's pronunciation can be learned with the aid of a dictionary, but only if you are familiar with the symbols used to represent them. In the following lesson, we will go into more detail about this.
Every dictionary has a pronunciation key or table. Read it carefully.
The definition of a word is the most crucial piece of information that a dictionary offers. The majority of the words are ambiguous or have multiple meanings. Don't only read the word's first definition that appears in the list. Count your way through the list. Find the definition of the word that most accurately reflects the context in which it is used. Search for words that are both above and below the one you are looking for.
You'll discover that terms frequently have a similar meaning. One day, a fine Mouse of the Town is claimed to have been entertained in the burrow of an honest, straightforwardly reasonable country mouse. They were old friends, having been playmates together before, and the visit was an apology for that. But he believed himself to be the housemaster.
Obligated to treat his guest with respect in every way and to make him feel as foreign as possible likely could. He presented him with a reserve of tender grey peas, some beef, a nice muesli dish, some cheese pairings and, to top it all off, a dessert made from the leftovers of another dish apple with a subtle appeal. She resisted eating anything herself out of respect for the stranger.
Lesson Learning Objectives
The students would be able to after completing this course:
Understand the meaning of grammatical terminology and how they are used.
Use a number of techniques, such as reading, context cues, word structure knowledge, letter-sound correlations, and inferences, to identify and predict unknown words.
Utilize/apply the reading process' abilities and methods to understand, interpret, and critically assess what they have read.
Recognized how reading can be used to improve fluency and comprehension of relevant topics.
Create a methodical strategy to spot grammatical mistakes in sentences.
Make inferences after evaluating and assessing various texts.
Apply the rules of proper written and spoken English when writing and speaking. To evaluate, discuss, and present print, one uses knowledge of language structure and standards (such as spelling, punctuation, and formality level).
Writing essays, including personal essays, allows people to communicate their thoughts, feelings, and ideas in a free-form manner.
An accurate summary and writing of challenging comprehension sections
Do you not prefer the sound of people conversing to that of birds chirping, and the opulence of a court to the uncivilized appearance of a desert that has not been cultivated? Come, believe me when I say that you will notice a change for the better. Never pause to think; move immediately. We have no time to waste because, as previously mentioned, we are not eternal. Make the most of today and enjoy it while you can since you never know what will occur tomorrow.
In conclusion, these and similar arguments won out, and his country acquaintance decided to travel into town that evening. They decided to sneak in after the end of the night as they set out on their journey together. The other, who was thoroughly tickled by this, sat and enjoyed himself like a happy epicure. Fresh turned in his affairs when, all of a sudden, they started to hear someone open the door.
Off their seats and stumble about the dining area in confusion. Our country acquaintance in particular was ready to pass away in terror at the barking of one or two enormous mastiffs since it opened their eyes. throats roughly at the same time, which caused the entire house to reverberate. finally getting himself together. "Well," he continued, "if this is your town life, much good may it do you; give me my poor quiet hole." Once more, with my cost but welcoming grey peas.
ENG101 Handouts:
There are handouts on the linked page "ENG101 Handouts".
ENG101 Past Papers:
ENG101 Midterm Past Papers:
ENG101 Midterm Past Papers will be available soon.
ENG101 Final Term Past Papers:
ENG101 Final Term Past Papers will be available soon.
ENG101 Assignments:
ENG101 Assignments will be available soon.
You may also like: