ENG503 Handouts, Assignments, Mid & Final Term Past Papers are discussed below. It is crucial to introduce all ideas that fall under the purview of English Language Teaching given the expanding significance of English as an international language. This course, "Introduction to English Language Teaching (ELT)," offers a thorough overview of the various teaching philosophies and techniques. The course also provides an analytical perspective on historical and current themes that are pertinent to ELT.
The goal of the course is to give the students the opportunity to investigate the essential elements of ELT, such as the fundamental methods used in language instruction, the best resources and activities for an English classroom, and creating reliable exams. For teaching, listening, speaking, reading, and writing, the course will offer fresh perspectives and abilities. This course's material consists of a English as an international language, the status of English in Pakistan, language teaching methods and approaches, teaching of the four language skills, teaching of the English sounds lexicon, sentence patterns, and meaning, and a thorough introduction to ELT are all covered.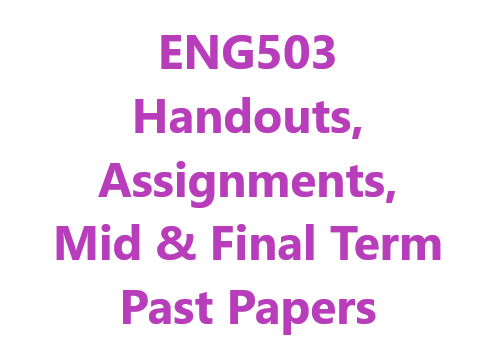 ENG503 Handouts, Assignments, Mid & Final Term Past Papers
Along with these topics, the course introduces students to discourse analysis, corpora and curriculum building, lesson planning, computer assisted language learning (CALL), bilingual education, language and society, and ELT research methodologies. ELT is largely focused on the teaching and learning of English as an academic subject. The majority of studies and publications in applied linguistics have dealt specifically with language instruction and acquisition.
In nations where English is not the native tongue (EFL, ESL, and EIL), English language instruction is a frequent practice. Due to the large number of immigrants from non-English speaking nations, it is also taught in English-speaking nations. It's common to believe that learning and teaching a language is a highly challenging procedure. The degree to which a learner's original language differs from English also affects how difficult it is for them to learn. English language learners frequently make mistakes with their grammar, vocabulary, and pronunciation.
To ascertain what a student knows or is capable of doing regarding the English language, assessment is employed in ELT. A single language skill (hearing, speaking, reading, and writing) may be evaluated, or two or more of these skills may be combined. The proficiency of the English language is measured using a variety of evaluation techniques. Examples include formal and informal assessment, formative and summative assessment, norm-referenced and criterion-referenced examination, traditional and alternative assessment, and computer-based testing, among others (Douglas, 2010).
Lesson Learning Objectives
After completing this course, students will be capable of
In ESL classrooms, adapt and use pedagogical skills.
To help their students improve their language abilities, teachers should choose, arrange, and employ tools and materials.
possess conceptual understanding of and be able to use diverse theories and instruments of evaluation effectively in ESL classrooms
use contextualised and communicative teaching techniques to implement theories relating to the teaching of language skills.
through research projects, identify potential issues that may arise in actual ESL classroom settings.
Using technology in ELT classes successfully
recognized English's status as a global language in the context of Pakistan.
TESOL instructors and students can join a variety of professional organizations worldwide. For instance, the American Council on the Teaching of Foreign Languages (ACTFL), National Council of Teachers of English (NCTE), American Association for Applied Linguistics (AAAL), International Language Testing Association (ILTA), and International Association of Teachers of English as a Foreign Language (IATEFL) are some of the oldest and largest associations in the field.
The Japan Association for Language Teaching (JALT), TESOL Greece, ELT Organizations in Pakistan, and Society of Pakistan English Language Teachers (SPELT), among others, are professional organizations for English language teachers at the national level. A variety of worldwide organizations, such as TESOL (USA), are linked with a voluntary group of teachers from schools, colleges, and universities.
Humans are capable of communicating with one another. We are able to swap information, ideas, and Opinions, wants, threats, instructions, praise, promises, statements, and feelings are all examples of language. "I shall take language to be a set (finite or infinite) of sentences, each finite in length, and made out of a finite number of words. A collection of elements. Chomsky (1957) Language is the first kind of communication that we use. Language is a system that employs words and gestures to connect sounds and meanings.
Language is an exclusively human and non-instinctive means of exchanging thoughts, feelings, and desires using symbols that people have chosen for themselves. (Sapir, 1921). Linguistics is the study of language and how it functions. It makes an effort to observe languages, accurately describe them, identify generalizations within the descriptions, and make generalizations about the nature of human language as a whole. It addresses fundamental issues like what language is and how it relates to other human abilities.
In addition, linguists think of language as a cultural, social, and psychological phenomenon and research what makes a language special, what makes it universal, how a language is learned, and how it evolves. Essentially, a language is made up of a collection of linguistic components (sounds, words, grammatical structures, etc.) and how they are organized. Additionally, it has significant sociocultural foundations (Wardhaugh, 2006). A language is something that people use, not some abstract object of study (Hymes, 1974). Sociologists, who constitute the majority of social theorists, aim to comprehend how societies are organize and how people coexist.
Eng503 Handouts:
There are handouts on the linked page "ENG503 Handouts".
ENG503 Past Papers:
ENG503 Midterm Past Papers:
ENG503 Midterm Past Papers will be available soon.
ENG503 Final Term Past Papers:
ENG503 Final Term Past Papers will be available soon.
ENG503 Assignments:
ENG503 Assignments will be available soon.