The Beckman Institute Graduate Fellows Program provides University of Illinois graduate students pursuing their M.A., M.S., or Ph.D. degrees with a beneficial fellowship that allows them to do multidisciplinary research at the institute. The Arnold and Mabel Beckman Foundation is providing funding for this program.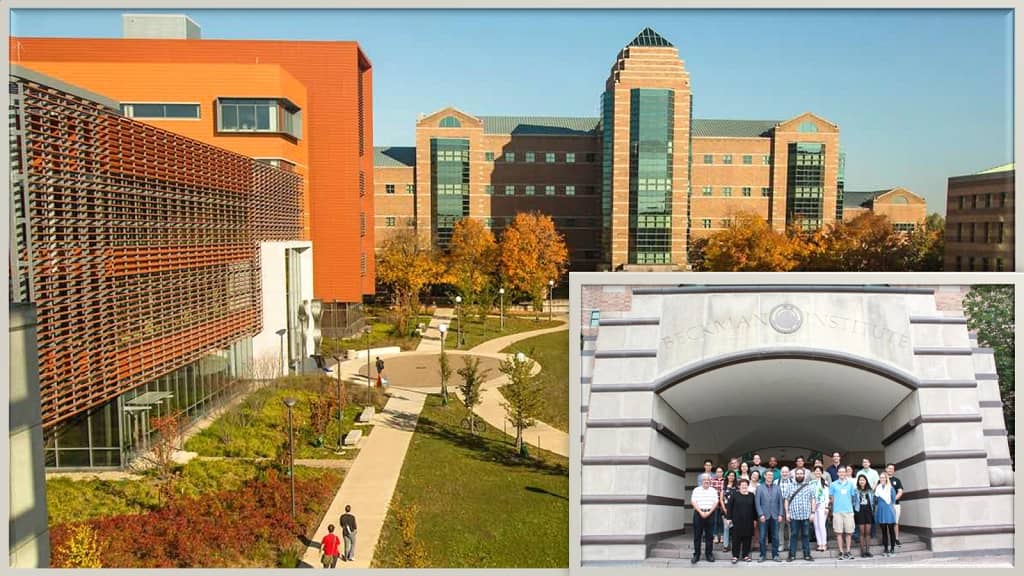 University of Illinois
It is located in the twin cities of Champaign and Urbana, Illinois, and is a public research university. Founded in 1867, it is the system's flagship institution and is a part of the University of Illinois. One of the largest public institutions in the US by enrollment is the University of Illinois, which has more than 56,000 undergraduate and graduate students. More than 150 undergraduate and 100 graduate degree programs are available at the university, which has 16 schools and colleges.
Eligibility Criteria for Beckman Institute Graduate Fellows Program
The candidate must be a graduate student at the University of Illinois working on a thesis for a degree in M.A., M.S., or Ph.D.
Each applicant is required to submit a proposal for an interdisciplinary research project that will be started when they are hired.
At least two University of Illinois professors, at least one of whom is a Beckman Institute professor undertaking research at Beckman, must actively participate in the project. More than one Beckman faculty member will be preferred in bids, especially in projects including educators from various research groups.
The Beckman Institute must serve as the primary location for the proposed study. The quality of the planned study, the possibility that the work will produce significant new findings in science and technology, and the project's connection to Beckman Institute research will all be taken into consideration when evaluating applications.
A graduate research assistant position will be offered to those chosen for this program.
Application Requirements for Beckman Institute Graduate Fellows Program
Candidates must provide the following paperwork with their application form in order to be considered for the Beckman Institute Graduate Fellows Program:
Curriculum vitae
A current resume must be submitted as an Adobe PDF file using the upload form above.
Research project
An outline of the research project that would be carried out if chosen as a Beckman Institute graduate. Three single-spaced pages is the maximum length for this section. Up to six citations to pertinent literature, together with an explanation of how the proposed research would further interdisciplinary study, are required. Using the upload form above, the study plan must be provided as an Adobe PDF file.
Letters of recommendation
Two letters of recommendation from faculty members in addition to the aforementioned items must be sent as Adobe PDF files through email to beckmanfellows@beckman.illinois.edu. The following address will also accept letters of recommendation if necessary; just send them in a separate envelope. Recommendation letter copies cannot be faxed in. By the application deadline, they must be received.
Two faculty members must collaborate in overseeing the research. Two faculty sponsors have agreed to support this proposal and contribute the supplemental funds required to finish the proposed research.
Coverage
Graduate research assistantships will be offered to the students chosen for the Beckman Institute Graduate Fellows Program. The assistantship is an 11-month, 50% appointment with a salary based on the department the graduate student is affiliated with. Additionally, up to $2,000 will be given to each recipient for pre-approved conference travel.
Deadline
The applications for Beckman Institute Graduate Fellows Program 2023 will open in spring 2023. So don't forget to revisit in spring 2023.
Application Process
Candidates must fill out an online application in order to apply to the Beckman Institute Graduate Fellows Program (the University of Illinois NetID and password required). Your resume and a proposal for a research project can also be submitted electronically using the form.
You may also like:
Swiss Government Excellence Scholarships for Postdoc, PhD, and Master in Switzerland